Posted on: Saturday, September 15, 2001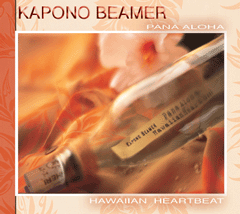 Island Sounds
Beamer sampler is a stroll down memory lane
By Wayne Harada
Advertiser Entertainment Editor
"PANA ALOHA, HAWAIIAN HEARTBEAT" by Kapono Beamer, Kapono Beamer Enterprises Ltd. KBECD 137
Crisp arrangements, brilliant acoustic guitar strumming and a roster of sweetly nostalgic and soul-stirring tunes combine to make this Kapono Beamer sampler as exquisite as a bejeweled music box.
Open it up and you'll be hurled back into time, with 11 classics recycled for a new generation of listeners. For those who know the songs, it's an opportunity for re-examination and rediscovery.
One of the prettiest versions of "Old Plantation" ever brings back visions of the old Ward mansion well before the Blaisdell Center was built on the site. And "Kamalani O Keaukaha" retains the romantic eloquence of the original.
"Kaimana Hila" evokes memories of Diamond Head but in a frisky format; "Ku'u Lei Awapuhi" reflects a lovely posture with unabashed Latin percussion precision.
And "Ku'u Ipo I Ka He'e Pu'e One" lives anew, yielding images of dancing hula hands.
All other vintage favorites, "Makalapua," "Kalama Ai One" and "Pua Lilia" are also worth applauding.
Beamer's lone original, "Mahinalani," enables him to extend his instrumental prowess beyond the guitar; the piece showcases his 'ohe hano ihu (nose flute), too.
Backup musicians – John Kolivas, bass; Noel Okimoto, percussion; Dennis Graue, piano and vibes – provide substantial settings for Beamer's solo guitar.
<Reprinted with permission, Honolulu Advertiser>